Living Water Christian Mission
Serving Jesus in Gonaives, Haiti

Thanks for taking the time to look at our website and learn more about our organization. Living Water Christian Mission is located in Gonaives, Haiti. Under the direction of Salonique Adolphe, the mission operates three churches and assist three others. They provide two elementary schools, one traditional high school and one high school for adults.  They also operate a school to learn a profession and a farm. Eventually, a seminary, will be built on the farm land. The seminary now meets at one of their other schools now.
Many of the students need sponsors to provide meals and an education. Please consider sponsoring a child.
They provide a health clinic for many in the neighborhood who would not otherwise receive health care.
Please take a few minutes to look at the articles and pictures that tell our story.
We are thankful for the many people and organizations that have contributed to the rapid growth of Living Water Christian Mission. Without the generous contributions from so many people, it would not have been possible for the success of the mission. May God continue to bless all our loyal supporters. As always, we ask for your continued prayers to give us strength and resources to continue the mission's operation.
"Working to relieve physical and spiritual poverty in foreign countries, primarily Haiti,
through planting churches, education, nutrition, health care and to-work programs."
Applying the Great Commission requires that we are always on the move seeking the lost souls. It also demands that we continue to teach and preach sound doctrines. It also challenges us to be disciple makers and that is what is going to transform them to the likeness of Christ.
Our History
Living Water Christian Mission has been consistently helping the people of Haiti since 2003. We began with a growing little church and a small school with only 17 students. During the first six years, our efforts were concentrated only in the city of Gonaives.
In 2009, after overcoming many obstacles, we finally started a church and a school in Marmelade It is in a village called Bassin Bilé.
And in 2012 we were able to plant a church in the northern part of Gonaives in the locality of Morne Blanc (White Mountain).
Gonaives is one of the oldest cities of Haiti. It went as far back as 1422 under the name of Gonaibo. It was then an Indian town. Today Gonaives has over 300,000 people. It is a very significant city historically and is the cradle of the independence of Haiti. This is the reason why it is nicknamed: The Independence City (1804). It is the Philadelphia of Haiti.
Gonaives was the leading city in the effort to end the years of dictatorship of the Duvaliers and also played a major role in putting an end to the second term of Ex-President Jean-Bertrand Aristide in February 2004.
The first decade of the 21st century brought major natural catastrophes to Gonaives. There were hurricanes Jeanne (2004), Hannah (2008) and Ike (2008). These hurricanes claimed thousands of lives of people and animals. They also destroyed or damaged thousands of homes, farms, and businesses. Yet the people refused to give up or be defeated.
Today our infrastructure is much better. We have better roads from Port-au-Prince to Gonaives. We have better streets in Gonaives. Business is back to life. And we have enjoyed some much-needed peace since the second trimester of 2004.
It is in that city, Gonaives, where much of the efforts of Living Water have been concentrated. We invite you to join us in making Gonaives and many other places in Haiti better places for Christ.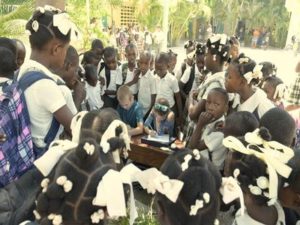 Director

Salonique Adolphe. He has been married to his wife Holgine for 18 years, as of 2015. They are among the founders of Living Water Christian Mission. Today Salonique works as the director of the mission. He is preaching at Living Water Christian Church and teaching at Christian Biblical Seminary of the Caribbean. Salonique studied law in Haiti and trained for ministry in the US. He Earned a BA from Central Christian College of the Bible and a MA from Cincinnati Christian University. Holgine and Salonique have a big family.
Website: livingwaterchristianmission.org